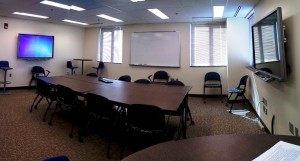 There is a public computer in the room that is pre-connected to the Touch Panel on the east wall.  Anybody with a Purdue Career Account can log into this computer.
A personal laptop can be connected to the Touch Panel on the west wall.  Instructions for how to connect a laptop can be found in the PDF document here:
http://edit.education.purdue.edu/download2/BRNG-6104-Touch-Panels.pdf
Once you have the software and drivers installed, you can begin using the Touch Panels with a laptop.  Windows 8 laptops do not require installing any software.
For Windows users: once you install the "Pen Software," you can use the PenSoftware whiteboard application to draw on the screen and then save your whiteboards as a PDF or as an image file to a flash drive or your laptop.
For Mac users: you can install and use the free GIMP software that is included on the flash drive in the room.  GIMP is basically a free open-source graphical editing program for both Mac and PC.  It will enable you to draw on the screen with the Pen that is provided with the Touch Panel and save your drawings in a variety of file formats to a flash drive or your laptop.  GIMP can be downloaded here:
GIMP for Mac – http://gimp.lisanet.de/Website/Download.html
GIMP for Windows – http://gimp-win.sourceforge.net/stable.html
Please be sure to leave the pens and flash drives in the room when you are finished using them.
If you would like assistance pre-configuring your laptop with software, the Education IT team would be happy to assist: edit@purdue.edu
–Education IT